Find a solution against Erectile Dysfunction | Implant
What is a Penile Implant & How it works?
"Now that I've had the implant, it's almost naturally to say: "oh come on let's go to bed, we've got free time" as it's just a pump, that's it! You are aroused, and it is there for a long time." Watch Richard's Testimonial
What is a Penile implant?
A penile implant is a discrete device that is placed into a man's penis and is designed to help him get an erection. Once implanted, it helps put the man back in control of his body. It can be used at any time, straight away, unlike other treatment options, where there may be a short waiting period for them to be effective. A penile implant is an effective solution for men who are suffering from ED that has not been resolved by other available treatment options.
A penile implant involves a routine surgical procedure. The majority of men can return home within a day of surgery, and after full recovery, may resume sexual activity after 4-6 weeks1. Your doctor or nurse will discuss the details of the procedure, your recovery process, and using the implant.
What is the difference between the Genesis and the Titan implants?
Penile implants have been a safe and effective standard of care for men suffering from ED for many years, and can offer hope and a return to intimacy and a normal life for many men with ED. There are two types of penile implants that Coloplast offers: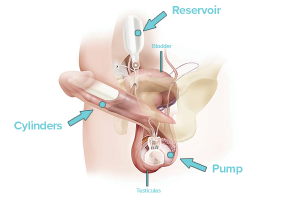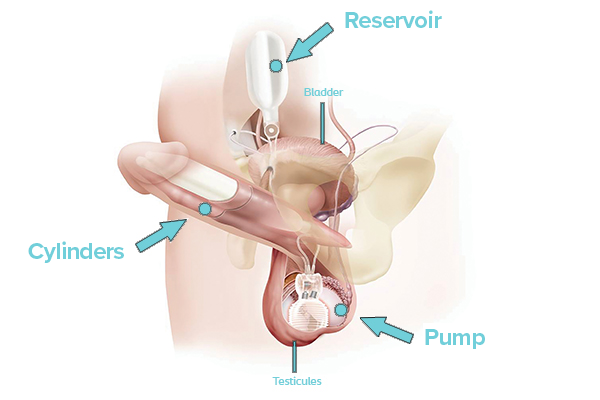 Genesis® flexible penile implant produces a permanently firm penis and may be appropriate for men with limited hand dexterity.2 Understand how works Genesis  in our article.
Both types of penile implants are totally concealed in the body, and give a man with ED the ability to have an erection – instantly, whenever the time is right, for however long he and his partner want. It helps put the man back in control and back to a normal life.
Considerations in choosing a penile implant may include your medical condition, lifestyle, personal preference and cost.
This treatment is prescribed by your physician. Although many patients benefit from the use of this device, results may vary.
Discuss the treatment options with your physician to understand the risks and benefits of the various options to determine if a penile implant is right for you.
Important Risk Information
A penile implant requires surgery. Risks of surgery may include but are not limited to complications such as infection, swelling, pain and discomfort. Once implanted, there may be a chance of infection, erosion, product migration or device malfunction which may require additional surgery. Your physician will provide complete risk information for your situation.
Article and videos
Watch this next